Toy Lending Library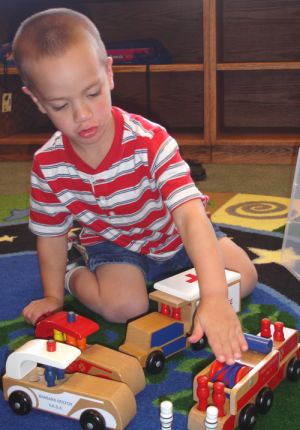 Thanks to the generosity and forward thinking of Ripon's Noon Kiwanis, Ripon Public Library is proud, and pleased as punch, to offer a toy lending library!
Sponsored by the Ripon Noon Kiwanis and the Webster Foundation, this myraid collection of toys represents more than "child's play!"
14 day check out
3 item limit per library card
Toys may be placed on HOLD, but only for pick up at Ripon Public Library.
NO BOOK DROP RETURNS! Return toys to the circulation desk at the RIPON PUBLIC LIBRARY ONLY.
Late fines are $.50/day per item
Maximum fine limit = $5.00 per item
Lost items—will be billed retail price plus the cost of library packaging
Damaged items—will be billed accordingly 
The concept of play as childhood right has been enshrined within the United Nations Convention on the Rights of the Child since 1989.
Play IS NOT an optional childhood experience
Studies have shown that play deprivation, particularly during the period between birth and seven years, has been linked to impaired brain development, lack of social skills, depression and aggression.
Simple Philosophy – Since the time of the classic Greek philosophers, play has been considered the characteristic mode of behavior of the young child, an expression of the natural spirit of childhood and thus a key defining feature of childhood.
Play is the business of childhood, allowing children free rein to experiment with the world around and the emotional world inside them. While it may look like mere child's play to you, there's a lot of work — problem solving, skill building, overcoming physical and mental challenges — going on behind the scenes.
Play builds the imagination – Pretending, or imaginative play, is one of the cornerstones of a young child's world.
Play promotes social skills as children engage in creating story lines to accompany their individual and collective play.
Play advances physical development -Skipping takes balance, climbing monkey bars builds strength, and sports activities involve coordination. Large motor skills, such as running, throwing, and pedaling, improve first, but fine motor skills aren't far behind. A 3-year-old carefully stacking blocks into towers is not only learning about gravity and balance but also developing hand-eye coordination.
Play helps kids work through emotions. Long before children can express their feelings in words, they express them through physical play, storytelling, art, and other activities.