Book Sales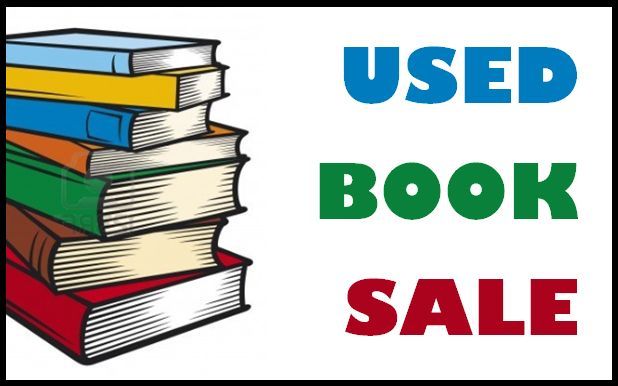 The 2023 Fall Book Sale will be held November 9-11.

Sorry, no early appointments!
Thursday, Nov 9: Early Bird Sale! 4:00 PM – 7:00 PM. $3 entry fee. Friends members receive a $3 credit – use it for the Thursday night entry fee or toward purchases on Friday or Saturday.

Friday, Nov 10: Sale open 10:00 AM – 5:00 PM.
Saturday, Nov 11: Sale open 10:00 – 2:00. BAG SALE! $3 / bag (Last Chance Room & SO MUCH MORE included in this sale – you'll be AMAZED!) – $3/paper grocery bag; Show Room will be open at regular prices. Bag Sale details are subject to change.
Payments accepted by cash, check, or (with a $10 minimum purchase) credit/debit card
PRICES
Last Chance Room:
$.50 for all hardback and large paperbacks
$.25 for small paperbacks
$.10 for kids' books. Magazine bundles have been restocked
Show Room:
$2 for adult hardback books
$1.50 for adult trade and large paperbacks
$.50 for adult small paperbacks
$.50 for kids' hardback
$.25 for kids' paperbacks or special sticker prices
Music CDs $.50
DVDs $1 or $2
Nash Room:
FEATURING

Art Books: Japanese art / Georgia O'Keeffe / Technique and design

100s of audio books

Huge collection of Taste of Home Cookbooks

Star Trek paperbacks

Louis L'Amour paperbacks

National Geographic

Completely restocked magazine section

Doll and Teddy Bear Collectors reference books
EXPANDED SHOWROOM COLLECTIONS
Adult Fiction
American Indian Art & Culture
Art
Biking & Hiking
Children's Fiction & Nonfiction
Civil War
Cookbooks
Crafting
Fishing 
Humor
Military Memoirs
Native Americans
Politics 
Religion
True Adventure
Westerns
Wicca
Women's Topics
World War II
Wisconsin Resources & Authors
NASH ROOM $.50 SPECIALS

1000s of Mass Market Paperback Fiction
DVDs
Hardcover Mysteries
Kids' Books
Music CDs
LAST CHANCE CLEARANCE
Cookbooks 5/$1
$.25 Paperbacks
If you would like to help with clerking at the book sale, please contact the library.
Always-Open Book sale Displays
For patrons who just can't get enough of the Friends of the Library book sales, or who miss the semi-annual sale, fear not! A selection of book sale items is always on display near the library's front desk – and it's open year-round (cash or check only)! All items are priced as marked.  As with the regular book sales, all proceeds benefit the Friends of the Library, a nonprofit organization whose fundraising activities help make many library programs possible.
Donations for the Used Book Sales are accepted throughout the year and can be left in the book sale donation bin, just inside the library's front entrance.  We cannot accept moldy/mildewed books, encyclopedias or textbooks.